Edgar Degas has been influential in my work for:
Degas produced many prints as well as paintings, and often worked in pastels over prints.
Lithographs
He produced lithographs from some of his paintings – some of these have a beautiful dreamy quality, benefiting from a monochrome treatment to enhance the total contrasts.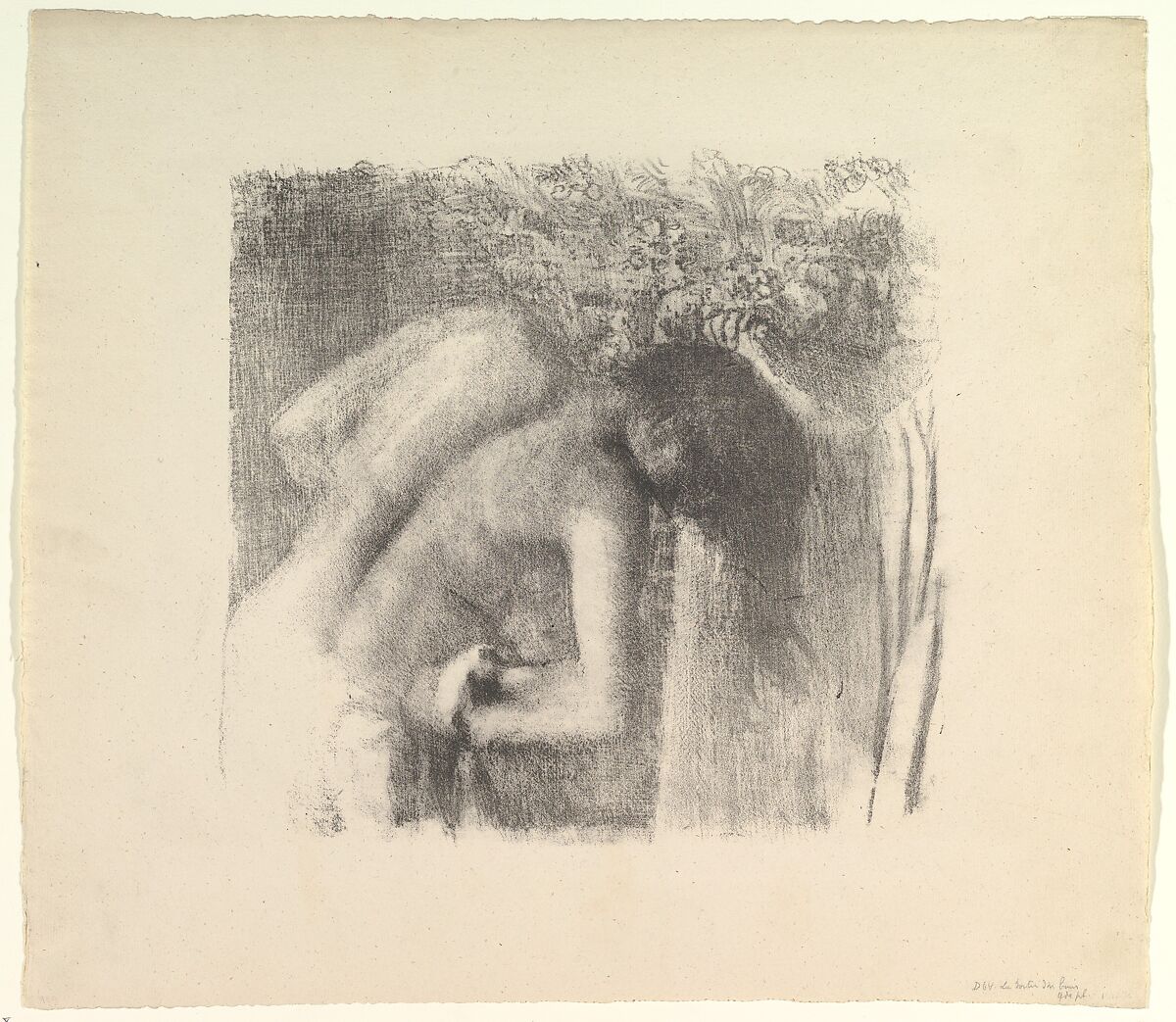 Etching
His etching uses a range of styles, often based on drawings of intimate scenes that have a . In 'The laundress' his energetic lines echo the frenzy of work in the laundry, and the ink tone on the plate conveys the steam and mist. His 'whorehouse scenes', some based on monoprints have an immediacy and poignancy not found in his painting.
Monoprints
Degas (1834-1917) took up monotype printing in 1874-75. In his lifetime Degas produced more than 250 subjects and 400 separate impressions in monotype, far exceeding his etchings or lithographs. He used ghost prints as a basis for pastels. Between 1876-1881 nearly 70% of his works in colour were monoprints enhanced with pastel, sometimes drawing with them, sometimes wetting them for watercolour effects to give different moods, and to add and take away figures.
Degas found monotype gave him greater freedom to improvise and be spontaneous than drawing on paper allowed. The ability to wipe and smear ink on the plate, and the darkness of tone from the ink, allow a range of mark=making and tone very difficult to achieve with charcoal. It was ideal for capturing secret and intimate scenes, such as women engaged in their toilet or in brothel scenes. He was influenced by Japanese woodblock prints and was interested in the ways shapes and lines can be organised on paper to indicate figures in movement. From 1870s he started to have problems with his eyesight, so he was more sensitive to light/dark contrasts and created dramatic chiaroscuro effects.
He was introduced to the process by his friend the amateur etcher Vicomte Ludovic Napoléon Lepic (1839-1889).  Lepic enjoyed experimenting tonal wiping (l'eau forte mobile or variable etching) to create many variations on a basic landscape composition. He used one etched plate and  wiped off this plate, and also 'retroussage',  a way of adding ink to previously wiped plates to produce much richer tones on the prints.
Degas adopted this  'dark-field' method. He covered the entire surface of the printing plate in oily, slow-drying ink and then removed it as necessary to create the image. He scratched and brushed it, wiped it with a rag and manipulated it with his fingers to create the composition, before fixing it by printing it onto paper. He worked and reworked his plates, wiping off and adding ink with rags, fingers and brushes. Later he began to draw on the plate with Indian ink, often diluting it with turpentine and working directly on the plate with a paintbrush.
Degas usually printed two impressions of each monotype subject, one strong, the other weak. He would keep untouched the first impressions (this is a first impression), but he would rework the second with pastel or gouache.
A Strange New Beauty: Monoprint Landscapes
His monoprint landscapes, included in a MoMA exhibition in 2016, are particularly beautiful and innovative. These use oil based ink and solvents to produce misty effects with strong abstraction.
Sources
Hauptman, J. (2016). Degas: A Strange New Beauty, New York: MoMA.
Google images for Degas chiaroscuro
Degas Creative Commons site for paintings only.