What is a portrait?
Portraits as a 'likeness' of an individual captured through painting, drawing and/or photography have been a part of human culture since prehistoric times. However portraits can have many different purposes that affect the way in which the concept of 'likeness' is interpreted,  the form of 'capturing'.  Portraits vary widely in for example:
what is portrayed? is this a portrait of the face only (eg frontal, side or three quarters view)? is it just head and shoulders (what attitude?) is it the full body (what posture)? or part of the body only (eg hands? eyes? feet?) ? or is the main focus on context (some portraits contain objects and environment of the sitter without the sitter themselves)
external or internal 'reality'? is the aim mainly a figurative likeness of external appearance? or more a 'capturing of inner soul' that permits abstraction and exaggeration of shapes, colours etc? or does it try to do both?
This is often affected by:
the relationship between the person portrayed and the person doing the portrayal: who commissioned it? who is paying? who is in control of the

decisions? 

was the portrait commissioned by the subject? why and for whom? how do they wish themselves to be represented?

was the portrait instigated by the artist? using a paid model? or a friend/lover etc? why and for whom? do they have a specific artistic style?

 the context in which the portrait is to be viewed:

is it a private, personal painting to be seen by a few close friends and family members who know the person well? 

does the intended audience have particular views about what is a 'good' or 'bad' portrait? or are they more interested in innovative approaches?
These factors have varied significantly over time.
Evolution of approaches
'Ideal beauties' : ancient and medieval world
Portraits in the ancient world were very stylised – like the Photoshop social media images of today. These idealised images often said more about the social norms of beauty in different cultures than the sitter themselves – the sitter as they wish to be remembered.
Prehistoric cave paintings, pottery and statuettes depicted people in abstracted form. Some of these may have represented particular people eg chiefs, or deities where particular characteristics have been exaggerated eg fertility or facial features/hairstyles/clothing showing ethnic identity.
Egypt: portraits of rulers and gods were highly stylised, and most in profile, usually on stone, metal, clay, plaster, or crystal. Egyptian portraiture placed relatively little emphasis on likeness, at least until the period of Akhenaten in the 14th century BC.portrait bust of Queen Nefertiti sculpted in c.1360 bc
China: Portrait painting of notables in China probably goes back to over 1000 BC, though none survive from that age. Existing Chinese portraits go back to about 1000 AD
Ancient Greek and Roman portraiture was often very idealised. But some  sculpted heads of rulers and famous personalities like Socrates (see discussion on Gumberg library) were depicted with relatively little flattery.
Middle Ages Most early medieval portraits were commissioned by , initially mostly of popes in Roman mosaics, and illuminated manuscripts.
Move to 'Realism': Renaissance to 18th Century
Economic and social changes in the role of the artist, and technological innovations eg use of oil paints that enabled finer brush strokes started a move towards more 'realistic' figurative depictions.
In Italy the Florentine and Milanese nobility wanted more recognisable representations of themselves. This stimulated experimentation and innovation particularly in creating convincing full and three-quarter views. Some drawings that were used as studies for religious art by artists like Leonardo da Vinci started to depict grotesque faces. However patrons were still concerned to project a certain image of themselves in their portraits – men with power or women portraits continued to depict an ideal of female beauty in both religious art and portraits like the Mona Lisa. It was at this time also that  artists like Leonardo and Pisanello started to add allegorical 'contextual' symbols to their secular portraits as in Lady with an ermine – the ermine is said to represent purity and moderation.
It was only however in Northern Europe that a real move to 'warts and all' depictions of real life occurred.  Portrait paintings by Durer, Jan van Eyck and  Holbein continued to be largely idealised – as for example Durer's self-portraits.  Holbein's portraits of Henry VIII are commissioned to create an image of supreme power, enhanced by costume and background trappings.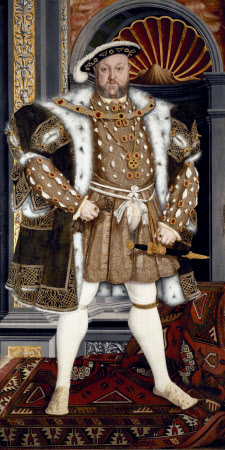 But other artists like Bosch, Lucas van Leyden and Quinten Massys and later masters such as Pieter Aertsen en Pieter Bruegel started to produce  'politically incorrect' paintings and prints of people and everyday life.
In the 16th Century artists increasingly experimented with printmaking techniques to produce figurative portraits as for example:
Rembrandt van Rijn  who painted powerful portraits of himself 'warts and all' as he grew older. In addition to paintings he also made etchings.
 Benedetto Castiglione who, influenced by Rembrandt, experimented with monoprint from 1640 to produce very detailed portraits.
18th and 19th Centuries: caricature and inner turmoil
This emphasis on idealism changed during the course of the 18th and 19th centuries.
The economic and social upheavals of the eighteenth century in countries like Britain and France led to the rise of political satire and caricature in which an irreverant approach to portraits of the rich and famous spread not only through painting but also prints.
While some Impressionists in France continued an idealised focus on fleeting impressions and light, other painters were experimenting with semi-abstraction and colour to portray inner lives.
Self-portraits began to be autobiographical, done at intervals tracking the evolution of an artist's life and art. Gauguin used colour and semi-caricature to create a self-image. Courbet and Van Gogh painted numerous self-portraits with graphic portrayal of their internal mental turmoil.
See also: https://www.vangoghgallery.com/misc/selfportrait.html
20th century: abstraction and internal lives
In the 20th century many  artists took the focus on abstraction and internal mental states  even further, including:
Egon Schiele's very explicit portrayal of sexual angst in his distinctive 'blind contour style'
Fauvists and expressionists whose woodcut portraits and paintings used exaggerated forms of distortion and use of colour to express emotion and tried to capture 'inner essence' and/or the feelings of the artist towards the subject.
Other artists like Andy Warhol started to look at the commercialisation of portrait images.
Other artists focus more on symbolic objects and autobiographical narrative than figurative representation of the subject themselves:
Sources
Angier, R., (2007) Train Your Gaze: A Practical and Theoretical Introduction to Portrait Photography, Lausanne, Switzerland: AVA Publishing SA.
Bikker, J., Webber, G. J. M., Wiesman, M. W. & Hinterding, E., (2014) Rembrandt: the late works, London: National Gallery.
Borchardt-Hume, A. & Ireson, N. (eds.) (2018) Picasso 1932: The EY Exhibition, London: Tate Publishing.
Brighton, A., (1966) Francis Bacon, London: Tate Gallery Publishing.
Brown, N., Tracey Emin, London: Tate Publishing.
Coppel, S., (1998) Picasso and Printmaking in Paris, London: South BGank Publishing.
Crippa, E. (ed.) (2018) All Too Human: Bacon, Freud and a Century of Painting Life, London: Tate Publishing.
Cumming, L., (2009) A Face to the World: on self-portraits, London: Harper Press.
Dumas, M., (2014) The Image as Burden, London: Tate Publishing.
Elderfield, J., (2017) Cezanne Portraits, London: National Portrait Gallery Publications.
Ewing, W. A., (2006) Face: The New Photographic Portrait, London: Thames and Hudson Ltd.
Freud, L., (2008) On Paper, London: Jonathan Cape.
Freud, L., (2012) Painting People, London: National Portrait Gallery.
Gale, M. & Stephens, C.(2008) Francis Bacon. London: Tate Publishing.
Gray, J., Nochlin, L., Sylvester, D. & Schama, S., (2005?) Jenny Saville, New York: Rizzoli.
Hambling, M., (1998) maggi & henrietta, London: Bloomsbury.
Hambling, M., (2006) Maggi Hambling the Works and Conversations with Andrew Lambirth, London: Unicorn Press Ltd.
Humphreys, R., (2004) Wyndham Lewis, London: Tate Publishing.
Kallir, J., (2003) Egon Schiele: Drawings and Watercolours, London: Thames & Hudson.
Lloyd, R., (2014) Hockney Printmaker, London: Acala Arts & Heritage Publishers Ltd.
Luckhardt, U. & Melia, P., (1995) Hockney: A Drawing Retrospective, London: Royal Academy of Arts and Thames & Hudson.
Marquis, A., (2018) Marcellin Desboutin, Cambridge: Fitzwilliam Museum.
Merck, M. & Townsend, C. (eds.) (2002) The Art of Tracey Emin, London: Thames & Hudson.
Moorhouse, P., (2013) A Guide to Twentieth Century Portraits, London: National Portrait Gallery.
Muller-Westermann, I. (ed.) (2015) Louise Bourgeois: I Have Been to Hell and Back, Ostfildern, Germany: Hatje Cantz Verlag.
Royalton-Kisch, M., (2006) Rembrandt as Printmaker, London: Hayward Gallery Touring.
Russell, J., (1971) Francis Bacon, London: Thames & Hudson.
Sanchez, L. G., (2004) Frida Kahlo, Mexico: Banco de Mexico.
Serres, K. & Wright, B., (2017) Soutine's Portraits: Cooks, Waiters & Bellboys, London: The Courtauld Gallery.
Smee, S., (2007) Lucian Freud, Koln: Taschen.
Stevens, C. & Wilson, A. (eds.) (2017) David Hockney, London: Tate Publishing.
Vann, P., (2004) Face to Face: British self-portraits in the twentieth century, Bristol: Samson & Company Ltd.
Wye, D., (2017) Louise Bourgeois: An Unfolding Portrait, New York: MoMA.
Zigrosser, C., (1951) Prints and Drawings of Kathhe Kollwitz, New York: Dover Publications.
Galleries and exhibitions
Museum Boijmans van Beuningen, Rotterdam
From Bosch to Bruegel – Uncovering Everyday Life (November 2015 – January 2016)
Rembrandt Etchings permanent collection
British Museum
Picasso post-war prints: lithographs and aquatints (27 January – 3 March 2017)
Courtauld Gallery, London
Soutine's Portraits: Waiters, Cooks and Bellhops (October 19 2017 – January 21 2018)
Egon Schiele: The Radical Nude  (23 October 2014 to 18 January 2015)
The Spanish Line: Drawings from Ribera to Picasso (13 October 2011 to 15 January 2012)
Fitzwilliam Museum, Cambridge
Degas' Drinker: Portraits by Marcellin Desboutin (19th September 2017 – 25th February 2018) Drypoint portraits
Degas, Desboutin and Rembrandt: parallels in prints (27 October 2017 – 25 February 2018)
Degas: A Passion for Perfection  (3 October 2017 – 14 January 2018) prints in various media
Degas: Caricature and Modernity ( 12 September 2017 – 21 January 2018) lithographs and drypoints
National Gallery
Beyond Caravaggio  (12 October 2016 – 15 January 2017)
The Encounter: Drawings from Leonardo to Rembrandt (13 July – 22 October 2017)
Cézanne Portraits (October 26 2017 – February 11 2018)
Royal Academy
James Ensor Intrigue (29 October 2016 — 29 January 2017)
Tate Britain
All Too Human: Bacon, Freud and a Century of Painting Life (28 Feb – 27 Aug 2018)
David Hockney 9 February– 29 May 2017
Frank Auerbach  (9 Oct 2015 – 13 Mar 2016)